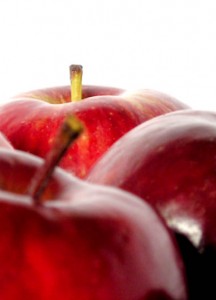 An apple a day could keep pancreatic cancer away
20 September, 2012
By Staff Writer
Natural Health News
Natural Health News — Dietary proanthocyanidins – commonly found in apples, pears and pulses – provide protection against pancreatic cancer, according to a new study.
Italian researchers conducted study of 1000 people – 326 who had been admitted to hospital with pancreatic cancer and 652 'control' individuals who had been admitted to the same hospitals as cases for other (non cancerous) conditions.
The researchers used a well  designed food questionnaire to better understand the diets of each of the participants ate. answered a reproducible and valid food-frequency questionnaire.Their findings are published recently in the Annals of Oncology.
Even after adjusting for other actors such as gender, age education, history of diabetes, tobacco smoking, alcohol drinking and energy intake and even vitamin C and folate intake the study showed that eating an additional portion of fruits rich in proanthocyanidins every day reduced the risk of pancreatic cancer by 25%.
Not just pancreatic cancer
An earlier study by the same researchers found similar benefits. Published in 2010 in the journal Nutrition and Cancer, this much larger study involved 9,622 cases of cancer and 16,050 controls. Using a similar dietary questionnaire to the one in teh current study The participants' diets were analyzed for 6 classes of flavonoids, including isoflavones, anthocyanidins, flavanols, flavanones, flavones and flavonols, and 6 classes of proanthocyanidins.
For subjects with the highest intake of total flavonoids there was a 44% lower risk of oral cancer and a 40% lower risk of laryngeal cancer compared to those whose intake was the lowest.
Those whose intake of flavanones was among the highest had a 49% lower risk of oral cancer and a 40% lower risk of laryngeal cancer. Those whose flavonol intakes were highest experienced a 38% and 68% lower risk of these diseases respectively and a 62% lower risk of esophageal cancer.
When colorectal cancer was examined, subjects whose intake of anthocyanidins was highest had a 33%  less risk of the disease compared to the lowest group. For those with the highest intake of flavonols, flavones and isoflavones, there was a 36%, 22% and 24% lower risk respectively. Proanthocyanidins a specific type of antioxidant flavonoid, also emerged as protective against the disease.
Nature provides the blueprint
Proanthocyanadins are a type of tannin and are the pigments made by many plants.
In autumn, when the leaves on trees turn first to red then gold it is these flavonoids and related compounds glycans – which are yellow in colour – that causes the leaves to fall.
The word "apoptosis" which is used medically to describe the programmed death of cells, including cancer cells, in fact comes from the Greek meaning "leaves that fall from trees"
Flavonoids and glycans have an important role to play in the regulation of the cell cycle and in this way, the scientists speculate, including more of them in our diets, can help reduce the risk of cancer cells growing.
Fruit is the major source of proanthocyanadins in our diets. All types of blue and red berries, apples, grapes are good sources of proanthocyanadins. They are also present in plums, apricots, avocados, dates as well as kidney beans, black beans and pinto beans, most types of nuts, dark chocolate, red wine and cinnamon.