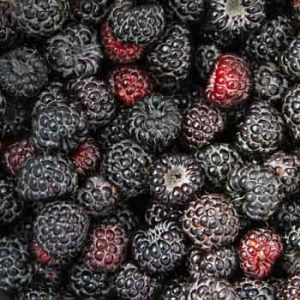 Black raspberry extract reduces heart disease risk
9 May, 2016
By Staff Writer
Natural Health News
Natural Health News — Substances found in black raspberries could help lower your risk of heart disease, according to data from a Korean study.
The findings show that black raspberry extract can reduce rates of arterial stiffness, a key indicator of metabolic syndrome, and an important risk factor for cardiovascular disease, especially in obese and insulin-resistant people.
They also establish a link between the consumption of this fruit and what are known as circulating endothelial progenitor cells (EPCs), which help repair and regenerate damaged arteries.
What you need to know
» Black raspberries are rich in a variety of antioxidants and other beneficial compounds.
» A new study has shows that 750 mg of black raspberry extract over a 12 week period can significantly relax arteries and raise levels of substances in the body that are involved in artery repair.
» This study adds to a body of emerging evidence showing that supplementing with black raspberries could help improve blood pressure, lipid profiles and vascular function.
Metabolic changes
The team of researchers from Korea University Anam Hospital and Gochang Black Raspberry Research Institute in South Korea, studied two groups of people with metabolic syndrome who received either 750 mg/day of black raspberry extract or a placebo for 12 weeks.
Blood pressure, degree of vascular stiffness, circulating number of EPCs and various markers of inflammation were recorded at the start of the study and at a 12-week follow-up.
What they found was:
Vascular stiffness was significantly decreased (by 5%) in the black raspberry group compared to the placebo group (which saw a 3% increase).
Levels of EPCs at the 12-week follow-up were significantly higher in the black raspberry group compared to the placebo group. The researchers hypothesised that the degree of vascular stiffness was lessened due to the increased circulating number of EPCs.
Levels of proteins/signally molecules such as such as interleukin-6 (IL-6) and tumour necrosis factor-alpha (TNF-α), which paradoxically have both pro and anti-inflammatory effects, were significantly greater in the black raspberry group compared to the placebo group.
Adiponectin levels, a hormone involved in regulating metabolic processes, were significantly higher in the black raspberry group when compared to the baseline.
Black raspberry benefits
Black raspberry has long been used in traditional alternative medicine in Korea because of its potential to improve vascular function.
Components of black raspberries include flavonoids, tannins, phenolic acids, tyrosol, ellagitannins and resveratrol. These substances are well-documented for their anti-inflammatory, antioxidant and anti-atherosclerotic effects.
Studies have shown antioxidant compounds of black raspberry, in particular as especially effective in reducing blood pressure and improving arterial stiffness. Some studies have also found that black raspberries improve blood pressure, lipid profiles and vascular function.
The flavonoid factor
The researchers suggest that the fruit's flavonoid content is primarily responsible for the improvement of vascular function in this tirial.
Flavonoids are known to increase bioavailability of nitric oxide (NO) and the enzyme endothelial nitric oxide synthase (eNOS), two known factors that contribute to the relaxation of coronary arteries.
Anthocyanins too were highlighted as factors that possess an anti-inflammatory and antioxidant capacity, further improving vascular function by up-regulating NO and eNOS.
Although they are also high in flavonoids randomised clinical trials of cranberry juice and blueberry drink have not shown the same beneficial effect on arterial stiffness, suggesting this is something unique to the black raspberry.
The study appears in the Journal of Medicinal Food.