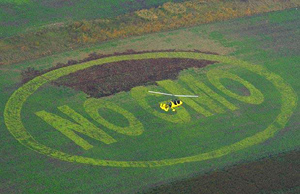 Monsanto's GM retreat from Europe – don't believe a word
29 July, 2013
By Lawrence Woodward
Natural Health News
Natural Health News — You've probably heard the news that Monsanto is pulling out of Europe – but don't celebrate just yet. This isn't surrender; it's a small step back so they can hit harder.
Monsanto's announcement that it is withdrawing its pending applications to the EU for the cultivation of genetically engineered crops has been gleefully welcomed by opponents of the "world's most hated company".
But conclusions that this marks the end of Monsanto's GM ambitions in Europe are very premature as a close look at the company's statements shows.
Jose Manuel Madero, Monsanto's president for Europe, told the Financial Times that the company will "focus its efforts on securing EU approval for increasing amounts of animal feed – imported from Brazil, Argentina and elsewhere – grown from GM seeds."
PR for Paterson
In fact, Monsanto is losing very little ground by this move.
The applications have been slumped in the EU's waiting room for unwanted guests for years and it is likely that many of them need to be revised in the light of developments since they were generated.
Not least because evidence is emerging that some of the "science" supporting them is less than satisfactory.
Those that are deemed up to scratch could be reinstated with little fuss and given the "right" political conditions would doubtless be fast tracked by a complicit EU regulatory system.
It is clear that this announcement is aimed at helping to create those conditions by providing "evidence" for pro-GM politicians such as Owen Paterson who are arguing for significant relaxation and change in the EU's GMO regulatory system.
US/EU trade misdeal
Monsanto's announcement should be seen in the context of recent speeches by UK government ministers and the start of negotiations to agree a comprehensive trade deal between the EU and the US.
Loopholes and lax regulations already allow imported GMO crops to be fed to livestock in the EU without the resulting products being labelled.
The European Commission shows no desire to respond to consumer pressure and close these gaps. In fact there is every reason to suppose that they will make further concessions during the ongoing trade negotiations.
Monsanto will also be looking to its friends and supporters in Washington and expecting them to deliver a "harmonised" approvals procedure.
And given that an integrity by-pass seems to be a standard requirement for any EU official working on GMO consumer protection issues that could well be the outcome.
A situation where GM crops approved in the US would be automatically accepted for cultivation in the EU – at least in those member states like the UK who wanted to grow them – is not a fanciful possible outcome of the trade negotiations.
Monsanto's ever tightening grip
In the meantime, Monsanto is likely to tighten its grip on Europe's conventional seed market. An estimated 60% of the EU's fruit and vegetable seed varieties are owned by the company
According to the Financial Times, Madero said Monsanto is in the middle of "a $300m investment in the EU to expand its conventional seed business, and he expects to authorise several hundred million dollars of additional investments in the near future."
Of course, as GM Freeze points out, Monsanto is not the only GM company around and several of them "have applications in the pipeline to cultivate GM crops in the EU, including Bayer, Syngenta and Dow."
But Monsanto is the pack leader and it may be saying it doesn't need GM as its lead strategy in Europe at the moment but don't be fooled – it certainly hasn't given it up.
This story first appeared on the Citizens Concerned about GM website. We are grateful for their permission to reproduce it here.