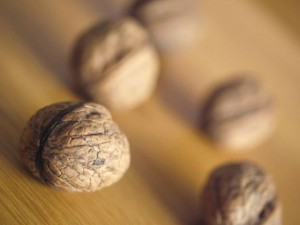 Go nuts – it's good for your body and mind
8 November, 2011
By Staff Writer
Natural Health News
Natural Health News — Recent research shows that eating a handful of nuts every day can help curb hunger, and even help reduce fat deposits in the abdomen.
A team of Spanish and Italian researchers supplemented put of 22 people with metabolic syndrome with 30g, or approximately 1 ounce, of nuts (a mixture of mixed raw unpeeled walnuts, almonds and hazelnuts) per day for 12 weeks and compared them to another group of 20 people who were told to avoid nuts.
The scientists analysed the participants' urine to better understand the biological changes the nut-enriched diet produced and say that the broad spectrum of compounds excreted in the patients' urine showed evidence of several healthful changes that could help people lose weight. The study appears online in the Journal of Proteome Research.
The biggest surprise was evidence that nut consumption boosted patients' levels of serotonin. This is the first reported link between eating nuts and higher levels of serotonin in the bodies of patients with metabolic syndrome, who are at high risk for heart disease. Serotonin is a substance that helps transmit nerve signals and decreases feelings of hunger, makes people feel happier and improves heart health.
The fact that it took relatively little time and relatively few nuts each day to trigger this and other beneficial effects –  such as reducing levels of substances in the body associated with inflammation and other cardiovascular risk factors in patients with metabolic syndrome – is encouraging.
The study itself was too small to draw definite conclusions but the findings do broadly agree with those of previous studies which have shown, for example, that walnuts may combat breast cancer, almonds help lower cholesterol, and peanuts can help control diabetes.
Another study published in the Journal of the American College of Nutrition earlier this year also found that pistachios weight-wise snack.  In a 12-week randomised study, 52 overweight and obese subjects were placed on low calorie diet and assigned to either a pistachio snack (about 75 pistachios providing 240 calories) or a pretzel snack group (two-ounces of pretzels providing 220 calories) each day. The results showed that the pistachio group had better success in reducing their weight compared to the pretzel group.
This may be because unlike some other snacks, the fats in pistachios are not completely absorbed by the body.