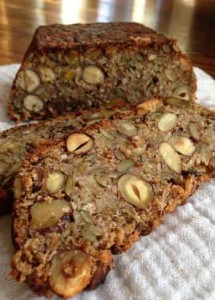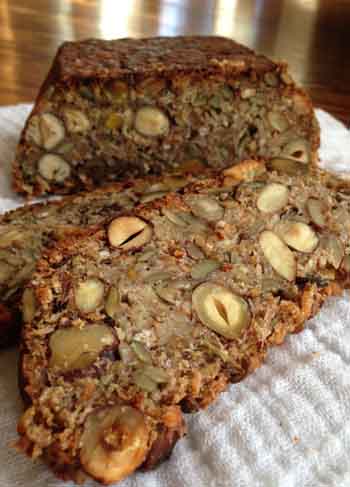 Nourishing nut and seed loaf
4 March, 2014
By Pat Thomas
Natural Health News
This dense, nutty loaf, from our Editor's personal recipe file, is full of deeply nourishing ingredients.
It's relatively quick to make, there's no kneading or complicated prep to do. The loaf works on the principles of a flapjack, in that the mix of ingredients does the work to form the loaf.
Time is the other crucial ingredient. Letting it sit before baking allows the soluble and insoluble fibres to develop into a 'dough'. Use silicone bakeware and you'll know it's ready for the oven when the loaf seems to hold its shape when you pull at the sides of the mould.
If you prepare the initial mixture last thing at night or first thing in the morning, you can leave the mixture to develop for several hours in a cool place, ready to bake at your convenience.
Unlike store bought breads and and other bakery items, every bite of this is full of high quality nutrition. If you use organic ingredients all the better.
A nutrient boost
Nuts and seeds are  superfoods, full of protein, fibre and healthy fats. Nut-rich diets are good for body and mind and have been shown to lower the incidence of diabetes, lower the risk of metabolic syndrome and heart disease, boost fertility  and help stave off depression.
The coconut oil adds body and a slight sweetness to the mixture. It is also one of the healthiest fats you can eat. It is rich in medium-chain fatty acids (MCTs) which support brain and central nervous system health. There is even some evidence that it has a role to play in helping to prevent Alzheimer's. Milk thistle is a traditionally considered to be supportive of liver health. This recipe uses maple syrup but you can also use date syrup,or a strong forest honey or if you are on a sugar-free regimen try stevia.
Some versions of this recipe use ground psyllium husks instead of buckwheat flour. Psyllium is a source of  fibre (both soluble and insoluble) but little else; buckwheat adds a whole range of important nutrients as well as both types of fibre.
This is not a low-cal snack, but then again, you don't need more than a slice (or two) to feel satisfied. It's great toasted or not; try serving with soup or salad, and use your imagination for healthy toppings.
Ingredients
135 g  (4 ½ oz, approx 1 cup)  mixture of sunflower and pumpkin seeds
65g (2 oz, approx ½ cup) flax seeds (also known as linseeds, ground, with 2 tbl reserved to be added whole)
65g (2 oz, approx ½ cup) hazelnuts (or you can mix together walnuts, pistachios, almonds etc for variety)
150g (5 oz, approx 1approx ½ cups) rolled organic oats
2tbl toasted buckwheat
2 tbl ground chia seeds
2 tbl ground milk thistle seed
4 tbl buckwheat flour
350ml (11½ oz, approx 1approx ½ cups) warm water
½ tsp coarse sea salt, ground
1 tbl maple syrup
3 tbl melted coconut oil
Method
1  In a bowl mix all the dry ingredients together.
2 Mix the water, salt and maple syrup together and pour into the dry ingredients.
3 Melt the coconut oil and add to the wet mixture. Mix thoroughly.
4 Pour into a silicon loaf mould, smoothing off the top. Let sit for at least 2 hours.
5 When you are ready to bake, preheat the oven to 375°F/190°C (gas mark 5)
6 Place loaf pan in the oven on the middle rack, and bake for 20 minutes  Reduce the heat to 350°F /180°C  (gas mark 4) and continue baking for another 30-40 minutes. The loaf is done when it sounds hollow when tapped.
The loaf MUST cool completely before slicing (use a serrated knife). If you can wait 24 hours (difficult because it's so tempting) all the better, as the loaf improves with resting.
Store the loaf in a tightly sealed container for up to five days. The loaf can be frozen – try slicing it before freezing so you can use individual slices for toast as needed.