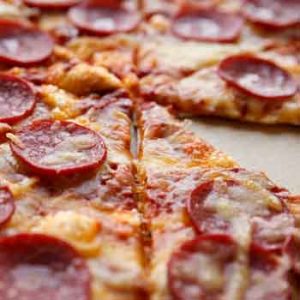 FDA bans three toxic food packaging chemicals
11 January, 2016
By Staff Writer
Natural Health News
Natural Health News — The US Food and Drug Administration has announced that it is to ban three grease-resistant chemicals from food packaging.
The chemicals, known as perfluorinated compounds or PFCs, are linked to cancer and birth defects, and are commonly used in pizza boxes, microwave popcorn bags, sandwich wrappers and other food packaging.
Environmental groups have spent more than a decade raising the alarm about PFCs and the FDA's decision comes five years after US chemical companies stopped making the chemicals.
The FDA ban, which will take effect on 1 February, comes in response to a petition filed by the Natural Resources Defense Council, the Center for Food Safety, the Breast Cancer Fund, the Center for Environmental Health, Clean Water Action, the Center for Science in the Public Interest, Children's Environmental Health Network, Improving Kids' Environment and  the Environmental Working Group (EWG).
What you need to know
» Campaigners and scientists have, for years, raised concerns about the use of perfluorinated chemicals (PFC's) in non-stick cookware, noting potential links to birth defects, heart disease and other health issues.
» In response to a petition from a coalition of campaigners in 2014, the FDA has announced it will finally ban three types of PFCs used in fast food packaging.
» The ban is good news but, say campaigners, there are many more chemicals in our food packaging whose toxicity is still unknown and news types of PFCs may be just as toxic as old ones.
The groups argued that although the three chemicals – diethanolamine salts of mono- and bis phosphates, pentanoic acid, and perfluoroalkyl – stopped being manufactured in the US in 2011, the possibility remained that food packaging with those chemicals, made in other countries, could be imported to America. The groups asked the FDA to bar them from its list of approved food-contact materials.
Still more untested chemicals out there
It's good news but lovers of food on the go still need to be aware of the chemicals still being used that could be seeping into their food. According to EWG, the ban does nothing to prevent food processors and packagers from using other chemicals in food packaging that may also be hazardous.
"Industrial chemicals that pollute people's blood clearly have no place in food packaging," said EWG president Ken Cook. "But it's taken the FDA more than 10 years to figure that out, and it's banning only three chemicals that aren't even made any more.
"This is another egregious example of how, all too often, regulatory actions under the nation's broken chemical laws are too little and too late to protect Americans' health. Congress needs to ensure that chemicals that make their way into food, either as deliberate additives or as contaminants from packaging and other outside sources, are thoroughly investigated."
In another statement, Erik Olson, director of the NRDC's Health program, said "the FDA's ban is an important first step—but just a first step—toward improving the safety of our food supply."
Newer PFCs still on the market, too
PFCs are a class that includes the chemicals used to make DuPont's Teflon and 3M's Scotchgard. EWG said that, through their use in thousands of consumer products, PFCs have polluted the blood of virtually all Americans (and indeed people and wildlife all over the world).
Over the past decade, chemical companies have introduced dozens of chemicals similar to those phased out under the EPA-led deal. The FDA has approved almost 100 other PFC compounds for use in food packaging.
"We know very little about the safety of these next-generation PFCs in food wrappers," said EWG Senior Scientist David Andrews, who analysed the more recent FDA approvals. "But their chemical structure is very similar to the ones that have been phased out, and the very limited safety testing that has been done suggests they may have some of the same health hazards. To protect Americans' health, the FDA and EPA should require that chemicals be proved safe before they are allowed on the marketplace."
And in Europe?
In the European Union the regulation of chemicals in paper and card food packaging is considered inadequate. In august 2015 the Danish government announced an advisory limit on the use of perfluorinated chemicals (PFCs) in paper and cardboard food packaging. The move according to environment minister Eva Kjer Jansen was to show that, "Consumer safety is paramount and there should not be harmful fluorinated substances in the paper and paperboard in contact with our food." However, as there are no direct consequences for companies that do not comply it is hard to say how effective it will be.
In Germany similar limits apply but the need for a Europe-wide solution to the use of PFCs in food packaging has yet to be applied.
The European Commission's Joint Research Centre (JRC) is conducting a study to evaluate whether additional EU measures are necessary for the regulation of non-plastic food contact materials (FCMs), such as paper and board.
A wide ranging REACH restriction on the use of perfluorooctanoic acid (PFOA) and related substances in the EU is also under discussion.