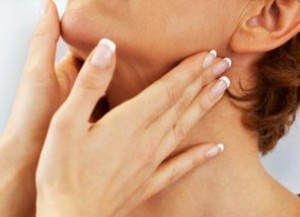 Hypothyroidism risk higher in women exposed to PFCs
13 August, 2013
By Staff Writer
Natural Health News
Natural Health News — Exposure to a class of chemicals used to make a wide range of consumer products can cause changes in thyroid function especially in women, according to a new study.
People have widespread exposure to perfluorinated chemicals (PFCs), which are used to manufacture items such as carpets, non-stick pans, stain resistant fabrics and paper coatings and in conventional skin-smoothing cosmetics (where it is listed on the label as polytetrafluoroethylene, or PTFE). Teflon and Scotchguard are arguably the most well-known PFC products.
These chemicals break down very slowly and take a long time to leave the body.
For this study, researchers analysed data from more than 1,100 people who took part in the 2007-2008 and 2009-2010 US National Health and Nutrition Examination Survey. The study looked at levels of four different PFCs as well as participants' thyroid function.
Even after adjusting for potential confounding variables such as age, sex, race, alcohol consumption, smoking, and urinary iodine, the researchers found that women with elevated serum levels of one type of PFC, perfluorooctanoate (PFOA), were more likely to have higher levels of the thyroid hormone triiodothyronine (T3).
The researchers also observed increases in levels of T3 and thyroxine (T4) in women who had elevated concentrations of another PFC, perfluorohexane sulphonate (PFHxS), in their serum. In addition, those levels increased inappropriately; that is, without the pituitary gland having signalled the thyroid to generate more hormones, the researchers say.
In contrast, men whose blood contained elevated levels of PFHxS tended to have lower levels of T4 compared with other individuals in the cohort.
Greater risk of hypothyroidism
Along with finding that having higher levels of PFCs in the body can alter thyroid function in both men and women, the researchers also found that PFCs may increase the risk of mild hypothyroidism in women.
Hypothyroidism occurs when the thyroid gland does not produce enough hormones. This can lead to symptoms such as fatigue, mental depression, weight gain, feeling cold, dry skin and hair, constipation and menstrual irregularities.
The study was published in the Journal of Clinical Endocrinology & Metabolism.
"Our study is the first to link PFC levels in the blood with changes in thyroid function using a nationally representative survey of American adults," study co-author Dr. Chien-Yu Lin, of En Chu Kong Hospital in Taiwan, said in a journal news release.
"Although some PFCs . . . have been phased out of production by major manufacturers, these endocrine-disrupting chemicals remain a concern because they linger in the body for extended periods," Lin said. "Too little information is available about the possible long-term effects these chemicals could have on human health."