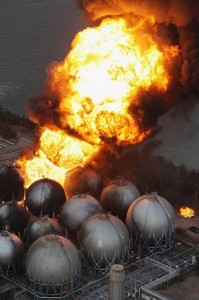 Fukushima fallout – thyroid damage in US children
4 April, 2013
By Staff Writer
Natural Health News
Natural Health News — If you are still living with the belief that disasters that happen in another country happen 'somewhere else',  here's a stark reminder that there is no 'somewhere else' on our planet.
Researchers working with the Radiation and Public Health Project (RPHP) in New York have discovered that the Fukushima nuclear disaster has had far-reaching health effects showing that young children born on the US West Coast are 28% more likely to develop congenital hypothyroidism.
RPHP is a non-profit educational and scientific organisation, established by scientists and physicians dedicated to understanding the relationships between low-level, nuclear radiation and public health.
In examining post-Fukushima conditions along the West Coast, the researchers found American-born children were developing similar conditions to those found in Europeans after the 1986 meltdown of the Chernobyl Nuclear Power Plant.
US children born after the 2011 meltdown of Japan's Fukushima Nuclear Power Plant are at high risk of acquiring congenital hypothyroidism say the researchers.
"Fukushima fallout appeared to affect all areas of the US, and was especially large in some, mostly in the western part of the nation," wrote the researchers in their study in the Open Journal of Pediatrics.
Nuclear fallout doesn't respect national borders
The researchers made their discovery by looking specifically at levels of radioiodine isotopes (I-131).
Just a few days after the meltdown, I-131 concentration levels in California, Hawaii, Alaska, Oregon and Washington were up to 211 times above the normal level, they say.
At the same time, the number of congenital hypothyroid cases began to skyrocket, increasing by an average of 16% from March 17 to Dec. 31, 2011.
Between March 17 and June 30, shortly after the meltdown, newly born children experienced a 28% greater risk of acquiring hypothyroidism.
In 36 other US states outside of the exposure zone, the risk of congenital hypothyroidism decreased by 3% – a finding that researchers believe may serve as further proof that Fukushima had something to do with the unusually high results found on the West Coast.
The disease is usually rare, but can manifest into a serious condition if left untreated. Affected fetuses and children may suffer serious developmental delay – and a recent study found that 44.2% of a sample of 94,975 Fukushima children have had thyroid ultrasound abnormalities as a likely result of their exposure to the radiation.
West coast in the firing line
Japanese officials (and, to be fair, officials and nuclear apologists elsewhere) have always downplayed the Fukushima meltdown and its potential to cause health havoc outside the meltdown area. Even so very soon after the meltdown radiation was being detected in Tokyo far beyond the evacuation zone.
In measurements made just after the meltdown and posted online, scientists from the University of California at Berkley detailed alarmingly high levels of radioactive isotopes in soil samples from across the state of California.
Even as far away as Boston, US scientists were detecting I-131 in samples of rainwater soon after the disaster.
Just like Chernobyl
Radioactive iodine that enters the human body typically gathers in the thyroid, which releases growth hormones. Radiation exposure can, therefore, stunt the growth of a child's body and brain. Exposure can have lifelong effects, as scientists studying the Chernobyl nuclear power plant meltdown in 19896 have found.
Decades after the accident, a 2011 study by the National Institutes of Health found that higher absorption of I-131 radiation led to an increased risk for thyroid cancer among victims of Chernobyl radiation – a risk that has not diminished over time.
The children who were unfortunate enough to be exposed to Fukushima radiation on the US West Coast, as well as in Alaska and Hawaii could now face similar risks.