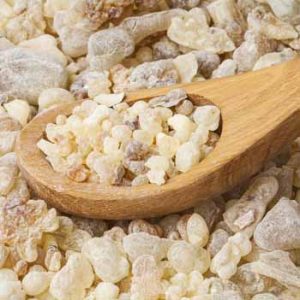 Frankincense extract prevents radiation-induced skin damage
25 March, 2016
By Staff Writer
Natural Health News
Natural Health News — The anti-inflammatory properties of frankincense could have a new application – helping to prevent the skin damage caused by radiation treatment for breast cancer.
Acute radiation erythema and other skin reactions are among the most common adverse side effects from radiation therapy for breast cancer. Around 85-95% of patients suffer this effect which classified as a 'complex wound', resulting from free radical and DNA damage to the layers of skin.
Radiation dermatitis can affect a patient's quality of life and potentially disrupt the therapeutic program. There is no universal standard of care exists to prevent or control radiation-induced skin injury.
What you need to know
» Skin rashes, caused by DNA damage and inflammation, are a common side effect of breast cancer radiation treatment.
» The boswellic acids found in frankincense have been shown in studies to exert a powerful anti-inflammatory effect on the skin and researchers set out to test if they could help prevent radiation-induced skin damage.
» Breast cancer patients who applied a cream containing boswellic acids twice daily had significantly reduced levels of intense erythema than those using a placebo cream.
Previous studies have shown that frankincense resin (in this instance, Boswellia serrata) contains boswellic acids which have an anti-inflammatory action on the skin, reducing redness and irritation, and helping to soothe irritated skin when applied topically.
In a recent study, in the European Review for Medical and Pharmacological Sciences, women between the ages of 47 and 69 undergoing radiation treatment for breast cancer received either a cream containing 2% boswellic acids (55 women) or a placebo (59 women) cream. The cream containing a proprietary formulation called Bosexil® was applied twice daily:
Immediately after radiation therapy and before bed-time on radiation therapy days,
In the morning and at night on days with no radiotherapy administration.
Protecting the skin
Results showed that he cream reduced levels of erythema across the board. Specifically:
22% of those receiving boswellia cream treatment had 'intense erythema' compared to 49% of the placebo group
30.5% of those receiving boswellia cream treatment had 'moderate erythema' compared to 41.8% of the placebo group
20.3% of those receiving boswellia cream treatment had 'slight erythema' compared to 36.4% of the placebo group
In addition, only 19% of those who underwent both chemotherapy and radiation had intense erythema compared to 48.6% of the control group.
The researchers suggest the powerful anti-inflammatory effects of boswellic acids are responsible for the benefits. They point to previous studies showing anti-inflammatory effects, especially in blocking activity of inflammatory proteins that include 5-lipoxygenase, TNF alpha, and NF-kB.
They conclude that "a base cream containing boswellic acids (boswellia cream) could be safely applied to prevent or alleviate radiation-induced skin reactions" and that "Future trials with robust sample size are warranted to confirm the effectiveness of a cream containing boswellic acids as a treatment for radiation skin reactions."