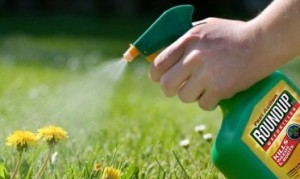 Why ban glyphosate?
4 June, 2015
The news over the last couple of weeks has been awash with stories about cancer 'cures'.
Look carefully at these stories, though. In fact the genetically modified virus that 'cures' cancer – only marginally improved survival rates and has struggled to get approval in the US because of concerns over its lack of real benefit. Other new immunotherapy miracle treatments also only marginally improved survival and the kicker is that these miracle 'cures' are only available on a limited basis or not even on the market yet.
Statins, used to lower cholesterol, are on the market – and in a desperate attempt to boost their market after they have been linked to a spectrum of health problems including anaemia, severe muscle weakness, sexual dysfunction and increased risk of diabetes and cancer – they are now being pushed as a cancer cure.
What does any of this have to do with the herbicide glyphosate?
Very simply, and sadly, we are not on the verge of curing cancer. There is still so much we don't know about what to do when someone gets this devastating disease. But we do know what causes it – and yet we do almost nothing to address these causes.
Focus on the causes
Recently glyphosate, the world's most widely used herbicide, was declared a 'probable human carcinogen' by the International Agency for Research on Cancer (IARC), a branch of the World Health Organization.
Glyphosate is a hormone disrupting chemical used by the world's gardeners and farmers. It's used in parks, schools and on roadsides. It's routinely sprayed on grain, oilseed and legume crops – thus wheat, maize and barley but also rapeseed, sunflower seeds, chick peas etc – as a desiccant (to dry them out) before harvest. It's also used heavily on GM crops which are engineered to resist its effects. UK surveys have found that 60% of bread in the UK contains pesticide residues, with glyphosate being the pesticide most frequently detected.
So we are eating this carcinogen and doing nothing to change that.
Early action

Other countries, however are doing something – or at least trying to.
Soon after the carcinogenicity of glyphosate was announced, Sri Lanka vowed to ban this harmful herbicide. The promise made by Sri Lankan President Maithripala Sirisena didn't even allow farmer wiggle room to use up existing stocks of glyphosate and was taken, in part, because of the surging levels of kidney disease amongst glyphosate exposed individuals in this country.
Unfortunately after the announcement the Sri Lankan government quietly gave in to intense pressure from the plantation lobby and amended the decision to "restrict" the herbicide only in areas where the disease is prevalent.
Two weeks ago the Danish Working Environment Authority (WEA) declared glyphosate a carcinogen, according. This likely means new rules for how, when and where it is used and change to other less toxic chemicals.
Bans in Europe
This week Swiss supermarket giants Coop and Migros have announced that they will no longer sell products that contain glyphosate.
Coop stated last week that, "Even if the (Swiss) Federal Office for Agriculture (BLW) judges glyphosate can be continued to be sold without a health hazard for the population, we decided on Monday 18th May to no longer sell any glyphosate-based products in Coop supermarkets and Coop Building & Hobby hardware stores." It is a preventive measure.
The Swiss decisions came after German giant retailer REWE Group's decision a month ago to remove glyphosate herbicides from the shelves of their 350 'toom Baumarkt DIY' starting in September 2015.
UK needs to act
Walk into any Tesco, Sainsbury, Asda, Morrisons or any B&Q or Homebase in the UK and glyphosate in its many forms – Roundup, Resolva, Bayer Garden Glyphosate Concentrate, Scotts Tumble-Weed and my favourite, DeadFast – lines the garden care shelves. There are no warning on the packaging. There are no warnings on the shelves. There is nothing to alert the consumer who does not keep abreast of these things that this product contains is a potential carcinogen and therefore a potential killer.
We can do something about this now – and here's the bonus. If we ban glyphosate in the UK we also knock out the possibility of growing glyphosate-resistant GM crops, saving us the agony experienced by farmers and consumers in the Americas who are awash with both these crops and the toxic herbicide that comes with them.
Next time you are in the supermarket or DIY shop – make a noise. Take the glyphosate product to the manager and let them know you want them to stop selling it. Write to the head office and tell them the same thing.
Unlike the false hope of this week's 'good news' cancer stories, this is an action that could have important and immediate benefits now and in the future.
Pat Thomas, Editor