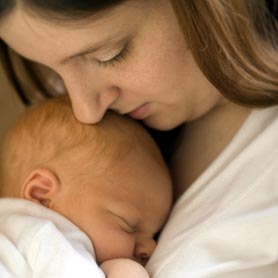 GMO herbicide found in breast milk of American women
9 April, 2014
By Lawrence Woodward
Citizens Concerned About GM
Natural Health News — The pesticide and GMO industry has always said this couldn't happen.
This discovery of glyphosate in human breastmilk raises new concerns about the safety and regulation of glyphosate – the active ingredient in Roundup which is the world's most used herbicide and a key part of genetically engineered cropping.
Glyphosate and the herbicide formulations based on it have been promoted as safe partially because of the claim that their residues will not accumulate in human bodies and will not therefore appear in breast milk.
Dan Goldstein, a senior scientist from Monsanto, which manufactures Roundup, stated recently;
"It is a common misunderstanding that pesticides, in general, accumulate in body fat.  While this phenomenon may occur with some older compounds and a very few compounds currently in use, pesticides that bio-accumulate to any significant degree have been removed from use or are highly restricted"
"If ingested, glyphosate is excreted rapidly, does not accumulate in body fat or tissues, and does not undergo metabolism in humans. Rather, it is excreted unchanged in the urine"
This view has been shared by the world's regulatory bodies and they should now – and urgently – reassess it.
These test results indicate that glyphosate is getting into human breast milk and maybe accumulating in our bodies.
Dr Angelika Hilbeck, senior scientist at the Institute of Integrative Biology in Zurich, commented that; "If confirmed in a full investigation, it seems that glyphosate has become a ubiquitous chemical in terms of presence and persistence. "
"This data also offers a first indication of potential accumulation in the human body, giving newborns a substantial dose of synthetic chemicals as a 'gift' for their start into life, with unknown consequences."
Glyphosate found above EU maximum level for drinking water
At present no country has set regulatory limits on glyphosate levels in human breast milk.
Concerned by the growing number of studies showing glyphosate levels in food, water and human urine, the grassroots coalition 'Moms Across America' wanted to see if there is a problem.
In association with the website Sustainable Pulse they organised the collection and testing of samples from their members.
In 10 samples of breast milk from women in locations across the United States, 3 contained glyphosate levels massively above the maximum level of 0.1 ug/l set by the EU for glyphosate in drinking water.
Amazingly the US Environmental Protection Agency (EPA) allows glyphosate levels of 700 ug/l in US drinking water.
At 76, 99 and 166 ug/l, glyphosate in the positive breast milk samples are below this level but the key point is that to date industry and regulators have insisted that glyphosate would never be found there.
Levels that can compromise health and development of infants
According to Dr Don Huber, Professor Emeritus at Purdue University; "The levels observed in breast milk and urine in this preliminary survey indicate that intake of this chronic toxin is highly biologically significant and almost 100 times the amounts documented in peer-reviewed scientific studies to cause birth defects, kidney and liver damage, hormonal disruption, and predispose to cancer."
"Much higher levels of glyphosate in breast milk than urine indicate a concentration factor that can especially compromise the health and development of an infant through direct toxicity, deprivation of essential mineral nutrients, and dysbiosis of the microbiome essential for immune, neural and physical development."
"Additional testing is essential to confirm the validity of this data on a larger scale if we are to avoid compromising the health and well-being of an entire generation."
Moms Across America and Sustainable Pulse are to be commended for organising this testing because government regulators would not do it.
It is though a quick look see and must be followed up by considerably larger sampling and testing.
A lethal impasse
The use of glyphosate herbicides such as Roundup is ubiquitous throughout the world.
It underpins much of genetically engineered cropping; its use is widespread in non-GMO farming, in municipal parks, verges and streets; and is the mainstay of many home gardens.
Little wonder that residues are increasingly turning up in water, air and food throughout the world and worryingly in animal and human urine and blood.
Health concerns about glyphosate/Roundup are growing everywhere other than with the pesticide and GMO industry and amongst those who are meant to regulate them on the behalf of citizens.
In the US and the UK politicians are ignoring these concerns but in other countries they are taking action.
The Lower House of the Dutch Parliament have just passed a motion – reinforcing one passed on 2011 – asking the government to prohibit the sale of glyphosate to individuals for non-commercial use by the end of 2015.
There are already restrictions in force in the Netherlands on the sale and domestic use of glyphosate and several towns have also prohibited its use on municipal properties.
On the other hand the European Food Safety Authority seems set to act on a recommendation from the German Federal Risk Assessment Agency to relicense its use in the EU.
There is a growing conflict between industry backed science and government funded – but industry focussed – science on one side and findings from independent research, real world evidence and citizens concerned on the other.
Politicians and regulators generally line up behind the business as usual agenda but this is now putting our health and our environment at risk.
Citizens' actions such as that being taken by Moms Across America and others in the US and the EU is the only way out of the impasse.