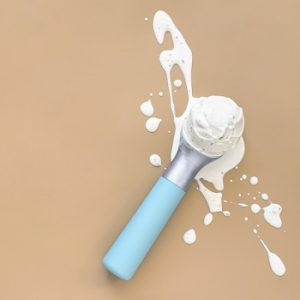 Glyphosate found in EU samples of ice cream
11 October, 2017
By Staff Writer
Natural Health News
Natural Health News — Samples of Ben & Jerry's ice cream taken from four countries in Europe have been shown to contain traces of the toxic herbicide glyphosate.
Results of the tests were revealed at a press conference yesterday in the European Parliament
The testing which was organised by US-based Organic Consumers Association (OCA), looked at 14 ice cream samples from the UK, France, Germany and the Netherlands.
Flavours tested were: Chocolate Fudge, Cookie Dough (FR); Half-Baked, Peanut Butter Cup, Chocolate Fudge (UK); Chocolate Fudge, Cookie Dough (FR); Cookie Dough, Toppea, Peanut Butter Cup, Karamel Sutra, Home Sweet Honey Comb and Cinnamon Buns (DE) and  Half-Baked, Cookie Dough, Peanut Butter Cup (NL).
Only one of the samples, from Germany, did not have detectable levels of glyphosate in it. The UK samples had the highest detected levels.
The results come ahead of today's hearing in the European Parliament on the so-called Monsanto Papers which show Monsanto had undue influence on the science and therefore safety regulations around glyphosate. The hearing be examining the tactics which Monsanto has used to manipulate science in order to keep its flagship product Roundup on the market.
The testing follows on from an OCA investigation in the US in July which, as reported by the New York Times, found glyphosate in 10 out of 11 samples of Ben & Jerry's ice cream.
Contaminated ingredients
What you need to know
» Testing of European samples of Ben & Jerry's ice cream has found worrying levels of the herbicide glyphosate in 13 out of 14 samples.
» The tests were organised by the Organic Consumers Association (OCA) and results were broadly in line with testing of US products which took place earlier this year.
» Ben & Jerry's have responded by saying it will introduce an organic range that will sit alongside its conventional flavours and will look to being glyphosate free by 2020
» Campaigners argue that Ben & Jerry's should be fully organic to protect its customers.
The levels found, while within EU (and indeed in the US) 'safe' limits were nevertheless in line with those shown to cause liver disease in laboratory animals. We have previously reported on this study, here.
Glyphosate is a hormone-disrupting chemical – and is therefore active, and potentially toxic, at very low levels.
It is not clear from the testing where the glyphosate comes from though there are multiple pathways through which it can get into our food.
The cows that supply Ben & Jerry's milk for its EU products are all in the Netherlands as part of a large milk-cooperative. They are fed for most of the year on diets containing genetically modified soya, which is sprayed liberally with glyphosate.
But glyphosate is also sprayed on non-GMO crops in the EU, particularly cereals and legumes.
The most likely explanation is that the residues come from the added ingredients such as cookie dough, fudge brownie and cookie pieces derived from cereal crops often sprayed with glyphosate. Some cross contamination in the transport and storage of these ingredients may also be possible, which could account for varying levels.
A weak response?
While insisting that its ice cream was safe to eat, Ben & Jerry's nevertheless responded to the test results by saying that it would commit to a new organic line of ice cream by next year. In addition, the company said it would aim to be glyphosate-free by 2020.
While positive, it is worth examining what these commitments really mean. The commitment to organic is, in fact, a commitment to an organic line that will sit within the company's non-organic products – and only in the US. It is not yet clear is this will be a 100% organic product line or one that is made with organic milk as its basis. It will, according to Ben & Jerry's represent 6% of its US sales.
There are no stated plans to go organic in the EU.
Living up to the glyphosate-free pledge will be much harder. As long as regulatory authorities continue to approve this hormone-disrupting, carcinogenic herbicide farmers will continue to use it. Finding a high enough volume of glyphosate-free cereals to make their ice cream ingredients may be tricky.
Calls to go organic
Ronnie Cummins, OCA international director, said: "Ben & Jerry's announcement yesterday that it will source 6% organic dairy is positive news. But that leaves 94% of its supply coming from conventional dairies which use massive amounts of GMO animal feed. We will push for a transition to 100% organic, backed by a legally binding contract."
Pat Thomas, director of Beyond GM which supplied the UK samples said: "These test results confirm the grim reality that other UK- and EU-wide testing has shown: almost no food is free from pesticide contamination. Ben & Jerry's says it's on a mission to make the world a better place. Inasmuch as ice cream can be used to do that, moving to a fully organic system, from farm to spoon, is the only way to ensure a product free from traces of endocrine-disrupting and carcinogenic glyphosate."
To date 150 organizations and businesses signed a letter to Ben & Jerry's, to transition to organic.