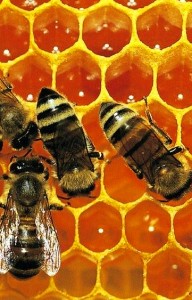 Propolis speeds healing of leg ulcers
4 July, 2013
By Staff Writer
Natural Health News
Natural Health News — Difficult to treat leg ulcers can be healed using a propolis ointment according to a new study.
The polish researchers, writing in the journal Evidence-based Complementary and Alternative Medicine, conducted a small study involving 56 patients with treatment-resistant venous leg ulcers.
Approximately 70% cent of all leg ulcers are venous ulcers. Ulcers are breaks in the layers of the skin that fail to heal and may be accompanied by inflammation.
The most common cause of chronic leg ulcers is poor blood circulation in the legs. Because leg ulcers are a symptom rather than a disease in their own right they can recur and be difficult to treat, especially if underlying causes are not addressed.
Chronic foot and leg ulcers mainly affect the elderly. People with diabetes are at special risk of developing leg ulcers. Other causes include injuries, certain skin conditions, vascular disease such as stroke, angina and heart attack. Pregnancy, blood clots and work which requires you to sand for long periods are also influential.
In the current study participants were randomly assigned to one of two groups: one was treated with a topical propolis ointment in conjunction with stretch bandage compression. The other was treated using an Unna boot (a compression bandage that is usually impregnated with zinc oxide; some Unna boots also contain calamine lotion and glycerine) without topical propolis treatment.
In the propolis group leg ulcers healed completely after 6 weeks of therapy in all cases. The leg ulcers in the control groups also healed but the process took up to 16 weeks.
The researchers conclude: "The propolis skin cream appears to have beneficial effects on burn wounds, inflammation of the skin, and other skin lesions. According to the results of our study, it can also be concluded that propolis skin ointment appears to have beneficial effects on healing venous ulcers. Propolis has been shown to stimulate various enzyme systems, cell metabolism, circulation, and collagen formation."
Propolis is a resinous substance collected from trees by bees which use it as a building and insulating material in the hive. But propolis (sometimes referred to as 'bee glue') is not just a building material; it is also used to keep low concentrations of bacteria and fungi in the hive. It is composed of a mix of essentials oils, pollen and a variety of polyphenolic (antioxidant) compounds including flavonoids and phenolic compounds which are thought to account for its healing properties.
It is increasingly being used in dermatology to help heal wounds and treat burns and ulcers. Other evidence has also shown propolis is useful for leg ulcers.