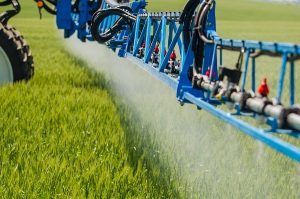 Will the UK House of Lords "do the right thing" and vote in favour of protecting rural residents from toxic pesticides?
21 September, 2020
By Georgina Downs
UK Pesticides Campaign
With so much going on in the world many crucial political considerations, debates and decisions – both in the UK and globally – are currently taking place under the radar.
A prime example of this is the outright condemnation in the UK House of Lords in July of the UK Government's total failure to protect rural residents and communities from the cocktails of pesticides sprayed on crops in the locality of homes, schools, nurseries etc.
Most striking of all was who led that condemnation. Lord Whitty, a former DEFRA Food and Farming Minister no less who spoke of his own concerns over the UK's pesticides policy when having been a Minister at DEFRA, including the closeness between the Government regulators for pesticides (the Chemicals Regulation Directorate (CRD), formerly the Pesticides Safety Directorate) and the pesticide companies they are supposed to regulate.
It should be noted that such closeness has now been highlighted even further considering the recent appointment of the former Director for many years of pesticides safety at the CRD, Dave Bench, and who has just started his new post as Chief Executive of the Crop Protection Association that represents the pesticide companies' interests. I mean that really is the appointment to top all revolving doors by a long way!
During the debate on pesticides at the Committee Stage of the Agriculture Bill in July, Lord Whitty did not hold back when he said, "When I more or less did the Minister's job 20 years ago, I inherited the responsibility for pesticides, and I was concerned then about the degree to which the pesticide industry influenced the regulatory structures… There was a degree of producer capture, and that anxiety has not gone away…" 
'Whistleblower'
This was recently echoed in a rather extraordinary email I received from a former senior civil servant who worked at various Government agencies – including DEFRA and HSE – and whose role was to advise/brief DEFRA Ministers on pesticides and who had to try and counter the very policy failings I was raising of the lack of human health protection.
The email from this former civil servant to me said, "I simply wanted to say two things: firstly, I'm very glad to see that you're still fighting and campaigning – I could not agree more with the aims of your campaign. Also, I only wish now…that I had been at the time braver and more able to speak out against the mulishly aggressive intellectual dishonesty and subservience to the pesticides companies that was behind so much of what I was asked to do….I wish you every best for the future."
Receiving an email like this from someone who has been tasked to specifically counter your campaign arguments is both heartening and infuriating, as the overwhelming feeling is – if only people would speak up and speak out on this public health policy failing sooner rather than later, as the health and lives of so many innocent people depend on those in a position to do so doing the right thing to secure our protection.
One such person who did do the right thing is DEFRA's very own former Chief Scientist Advisor, Professor Ian Boyd. In an article in 'Science' in 2017 (when still in post in the top science job at DEFRA) he issued a damning assessment of the regulatory approach worldwide for pesticides sprayed on crops including that the impacts of "dosing whole landscapes" has been ignored; and that the assumption by regulators that it is "safe" to use pesticides at industrial scales across landscapes "is false" and must change. He has since repeatedly advocated that pesticides need to be designed out of farming systems. When I highlighted his comments at a meeting in 2018 with DEFRA Minister George Eustice he said he agreed with that position (not that that has been reflected of course in any way, shape or form in the Agriculture Bill in its current form!)
Amendment 78
So back to the House of Lords and in particular the man who really has become the champion for fighting for protection for us rural residents and communities, Lord Whitty.
Following the Committee Stage in July the Agriculture Bill is now back again in the House of Lords for the Report Stage. Lord Whitty has re-tabled his crucial amendment (listed as amendment 78) for the protection of human health from agricultural pesticides entitled "Application of pesticides: limitations on use to protect human health."
This amendment – which is due to be voted on by the House of Lords tomorrow – has full cross party support from Baroness Jones of Moulsecoomb of the Green Party, Lord Randall of Uxbridge from the Conservatives, and Baroness Bakewell of Hardington Mandeville who is the Lib Dem Spokesman for the Environment, Food and Rural Affairs.
Amendment 78 is related to prohibiting the application of any pesticide for the purposes of agriculture or horticulture near – (a) any building used for human habitation, (b) any building or open space used for work or recreation, or (c) any public or private building where members of the public may be present, including but not limited to, schools and childcare nurseries, and hospitals.
The same amendment for the protection of rural residents and communities also received widespread support across the House of Lords at the earlier Committee Stage.
During the debate on this amendment at that earlier Committee stage in July, Lord Whitty also said,
"Much of the Bill is about the protection of wildlife, the health and welfare of farm animals, biodiversity, plant conservation, and water and air quality, but there is little recognition of the terrible damage to humans of ingesting chemical pesticides directly into their lungs, eyes and bloodstream. Many chemicals used in agriculture, including on UK farms and elsewhere, can, on their own or in combination, cause the breakdown of parts of the human immune system. They can poison the nervous system and cause cancer, mutations ​and birth defects. Rural residents are well aware of the problems. Campaigners on this have dossiers on rural families who have suffered, and I shall give your Lordships a couple of examples of the testimonies.  
One is from a woman in the countryside in the north of England: "I have brought up my family of three next to a frequently sprayed arable field. On many occasions, the spray has gone over the children as they've played. It has covered our washing and gone through our windows. We are long-term tenants on this land, yet we are treated as if this has nothing to do with us. We do not know what these chemicals are, only that the farmer, when mixing them and pouring them into his tank, wears full protective clothing and then sits in a protected cab." 
Another says: "I live in a rural area and have done all my life. The spraying of crops has been carried out almost daily. I suffer from two chronic diseases, one of which is likely to be fatal." 
Another resident says: "My neighbour sprays so close we can sometimes feel the drops on our faces and there is nothing we can do. My children are at risk." 
Lord Whitty also pointed out in the debate that, "There is no need for any more proof that such chemicals are dangerous, particularly to those who are frequently exposed."
And he also stated that, "It is wrong to claim that the EU or UK systems are safe. In particular, they do not protect those who live close by…This amendment would at least have the effect of protecting residents and the public from the hazardous health impacts of spraying near buildings and spaces used by the public. Ultimately, we need to see a longer-term strategy to develop non-chemical methods of crop protection, but this is an improvement that we can impose now, and one which should be part of the Bill."
Co-signer Baroness Jones of Moulsecoomb also reinforced the vital importance of such protection and said, "Banning the application of pesticides in areas of human habitation, work and education will directly protect people from their toxic consequences." 
Co-signer Lord Randall of Uxbridge stated, "We have talked about the need to look after biodiversity and the environment, but what could be more important than the health of fellow human beings?"
Labour front bench support
At the end of the debate on this amendment at Committee stage in July, the Shadow Spokesperson for Environment, Food and Rural Affairs Baroness Jones of Whitchurch pledged full support for Lord Whitty's amendment which she pointed out focuses "on the impact of pesticides on human health, which is, rightly, also a great cause for concern."  
Baroness Jones of Whitchurch then said, "My noble friend Lord Whitty also raised the concerns of those living in rural areas adjoining fields where crops are being sprayed, sometimes indiscriminately. They come with health warnings that are rarely shared with the local population. Clearly these practices can cause substantial pollution, not only to the individuals concerned but to the air quality in nearby areas. It was notable that the noble Earl, Lord Caithness, rightly pointed out the irony that water courses seem to be better protected than human beings. As my noble friend Lady Henig said, it is a sad fact that the health impacts of these chemicals often become clear all too late in the day," and then stated again that the amendment is a "reasonable prospect, on any measure." 
Government inaction
The only notable line from the DEFRA Minister in response to the debate was stating that the Government agrees that pesticides should not be used where they may harm human health. Yet it's a matter of fact that agricultural pesticides are used where they are not only a clear risk to health, but worse still, where they are harming human health.
As detailed in my previous article, rural residents and communities across the UK continue to be adversely impacted by the cocktails of pesticides sprayed on crops in our localities with thousands of reports of various known acute and/or chronic health effects.
Indeed, there are now nearly 12,000 people, the majority of which are affected UK residents, who have signed the petition to the Prime Minister and DEFRA Secretary that calls for the same protective measures that are contained in the vital amendment 78.
The petition has been supported by a number of prominent figures including Hillsborough QC Michael Mansfield, the Prime Minister's own father Stanley Johnson, Jonathon Porritt, Gordon Roddick, DEFRA non-executive board member Ben Goldsmith, amongst others.
While operators generally have protection when using agricultural pesticides – such as use of personal protective equipment (PPE), respirators, and will be in filtered tractor cabs when spraying pesticides – rural residents and communities have absolutely no protection at all. To see an example of the spraying of agricultural pesticides in the locality of the home and garden of one family (see video here).
Further, the exposure and risk for rural residents and communities is from the actual release of cocktails of harmful agricultural pesticides into the air where people live and breathe – as once pesticides have been dispersed they are airborne droplets, particles and vapours and are in the air irrespective as to whether there is any wind or not. Indeed volatilization (ie. vapour lift off) can occur days, weeks, even months after any application further exposing those living in the locality and which obviously has nothing whatsoever to do with wind!
Scientific studies have found agricultural pesticides transported in the air at high levels, including considerable distances from where pesticides were originally applied.
The UK Government's stated position that pesticides are strictly regulated and scientific assessment shows that there are no risks to people and the environment is simply not correct considering that since 2009 EU (and UK equivalent) laws have legally defined rural residents living in the locality of pesticide sprayed crops as a "vulnerable group" recognised as having "high pesticide exposure over the long term," and further, the risks of both acute and chronic effects of such exposure is again recognised in Article 7 of the EU Sustainable Use Directive.
Rural residents are thus clearly at high risk of harm and yet EU and UK equivalent laws stipulate that there must be no harm to human health in any capacity.
Adverse health impacts
High quality, peer-reviewed scientific studies and reviews have concluded that long-term exposure to pesticides can damage the function of different systems in the body, including nervous, endocrine, immune, reproductive, renal, cardiovascular, respiratory systems.
Such studies have concluded that exposure to pesticides is associated with a wide range of chronic diseases including, cancers of the breast, prostate, lung, brain (including childhood brain cancer), kidney, testicles, pancreas, oesophagus, stomach, bladder, bone, as well as non-Hodgkin's lymphoma, multiple myeloma, soft tissue sarcoma, leukaemia, (including childhood leukaemia).
Other chronic health impacts that pesticides have been associated with in studies include, birth defects, reproductive disorders, neuro degenerative diseases (including Parkinson's, Alzheimer's, Amyotrophic lateral sclerosis (ALS)), cardio-vascular diseases, respiratory diseases, diabetes, chronic renal diseases, and autoimmune diseases (such as rheumatoid arthritis, and systemic lupus).
The economic costs of the health conditions that pesticides can cause are massive. Obviously it goes without saying that the personal and human costs to those suffering chronic diseases and damage, and the impacts on all those around them, cannot be calculated in financial terms. Yet if such harmful agricultural pesticides were not sprayed in the locality of residents' homes, schools etc. then such pesticide related health conditions would clearly be preventable.
Even based on the acute effects reported by residents and which the Government itself already monitors and records cases on (including acute effects such as chemical burns to the eyes and skin; rashes and blistering; damaged vocal chords; difficulty swallowing; respiratory irritation; breathing problems; asthma attacks; headaches, dizziness, nausea; vomiting; stomach pains; flu-type illnesses; and aching joints), then immediate action is supposed to be taken, as any reports of any adverse health effects, whether they are acute or chronic, are not supposed to just be accepted by Government when pesticide laws clearly require there to be "no harmful effect" on human health.
Reports of acute and chronic harm for rural residents and communities have existed for decades and the only way to prevent such harm occurring and protect human health is to prohibit the use of agricultural pesticides in the locality of where rural communities are present, as no pesticides should ever have been permitted to be sprayed in the locality of such unprotected people.
Securing protection for rural residents
Amendment 78 therefore provides an opportunity to get support in the House of Lords for securing such health protection, especially for the most vulnerable groups such as babies, children, pregnant women, the elderly and those already ill and/or disabled – none of whom should ever have been exposed to these poisons in the first place!
Further, as DEFRA Minister Lord Gardiner said during the Committee Stage debate (when referring to a different issue, to do with diet and healthy eating) it is important that people are in the best health possible considering Covid 19 – as anyone with underlying health conditions is susceptible to the virus – and yet agricultural pesticides are already known to cause damage to the immune system, respiratory system, nervous system etc. Thus action to protect rural residents is also vital in the current climate of Covid-19 of needing people to be in the best possible health and not compromised from synthetic pesticides and other agro chemicals harmful to health.
Amendment 78 is the only amendment that can provide actual protection for rural residents and communities and secure the health of this highly vulnerable group.
Whether amendment 78 is voted through does now appear to hinge on what the Labour front bench (led by Baroness Jones of Whitchurch, along with Lord Grantchester and Baroness Wilcox of Newport) decides to do. Having fully and firmly supported this same amendment at Committee Stage, there is no doubt these peers will most likely be coming under huge pressure from various parties to not support amendment 78, including the farming unions and other business interests, as well as certain pesticide NGOs (that for many years have waged rather staggering and orchestrated attempts to hijack and confuse the residents issue and weaken the protection requirement needed).
All that the many thousands of rural residents and communities affected by this scandalous protection failure can hope for now is that the House of Lords in general votes in the interests of human health rather than in the interests of other sectors.
Will the House of Lords do the right thing and vote in favour of finally protecting rural residents and communities from the cocktails of toxic pesticides sprayed on crops?
Rural residents across the UK are very much hoping the House of Lords will help put an end to this scandal!
Georgina Downs is a journalist and campaigner. She runs the UK Pesticides Campaign, which specifically represents rural residents affected by pesticides sprayed in the locality of residents' homes, as well as schools, playgrounds, among other areas.