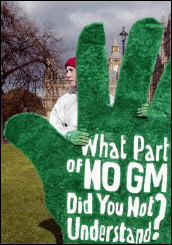 EU bank offers Monsanto a helping hand with public funds
3 December, 2012
By Staff Writer
Natural Health News
Natural Health News — Monsanto, the world's most prominent promoters of GMO crops worldwide, is set to receive $40 million (£25 million) of public financial support via the European Bank for Reconstruction and Development (EBRD).
The EBRD has provisionally approved this massive financial guarantee to cover Monsanto in case farmers and other large-scale customers cannot pay for seeds or agrochemical products they committed to buy from the corporation. The support is to be offered by the EBRD for contracts made by Monsanto with medium and large farmers and distributors in Bulgaria, Hungary, Russia, Serbia, Turkey, and Ukraine.
US corporation Monsanto is the world's largest seed producer, the fourth largest agrochemical company worldwide and a Fortune 500 company.
Your right to choose what you eat eroding
The Central and Eastern Europe Bankwatch, a European NGO that monitors the activities of international financial institutions, has been highly critical of the proposal, asking, not unreasonably why a company that can afford to throw millions at depriving people of the right to choose what they eat deserves backing with public development money.
"It is absolutely outrageous that the EBRD plans to use public money to support a giant that already dominates the global seeds and agrochemicals markets," comments Ionut Apostol, CEE Bankwatch Network's EBRD coordinator. "The EBRD has as a stated goal to promote the private sector and competition in transition countries; how could giving money to one of the world's richest corporations possibly count as fulfilling this mission?"
"Even more troubling is that the EBRD claims to enhance food security by supporting Monsanto expansion in our region," adds Apostol. "But the farming model promoted for decades by this corporation, centred on chemicals, mono-cultures, genetically modified organisms and the marginalisation of the smallest producers is precisely what diminishes food security in an era of increasingly unstable climactic conditions."
Earlier this year more than 100 organisations belonging to the group GRAIN signed a statement criticising the EBRD's vision on food security. GRAIN is a small international non-profit organisation that works to support small farmers and social movements in their struggles for community-controlled and biodiversity-based food systems.
Your money funding a toxic future
CEE Bankwatch, together with 157 NGOs from all over the world, have also sent an open letter to the management of the EBRD arguing against the approval of this financial aid package for Monsanto and also calling on the bank to reassess its approach to food security, from a focus on promoting large-scale industrial farming to encouraging more sustainable, biodiversity friendly and smaller scale farms.
The letter calls on the European Bank for Reconstruction and Development to to drop the proposed $40 million unfunded risk participation in Monsanto's portfolio in Bulgaria, Hungary, Russia, Serbia, Turkey, and Ukraine.
The letter details Monsanto's long and controversial history of transferring its risks onto other people and the environment. It argues that support for this company and the agricultural model it represents is highly inappropriate for a multilateral development bank committed in its statute to promoting "environmentally sound and sustainable development".
The financial assistance for Monsanto has already passed some internal procedures at the EBRD and is set to be fully confirmed in April 2013. The final approval of this guarantee entails a vote by representatives of countries that are stakeholders of the bank, including the United States, Australia, European countries and the EU itself.
The EBRD says that none of its financing would go to GMO support, but considering Monsanto's track record it would be important to understand more how the bank plans to ensure that.
Your health at risk
Why is this important to health? The recent study by Seralini and colleagues which found multiple tumours in GMO fed rats show that genetically modified food is a threat to our health. This was just one in a series of studies showing the health risks of GM.
EBRD funds exist for business development and Monsanto like any other company is entitled to apply for them. However, in approving the money for Monsanto the EU can potentially give this toxic company and the work that it does the thumbs up whilst dressing up the whole transaction in the name of supporting private enterprise, the 'free market' and the European economy. In other words 'it's just business'.
The European Bank for Reconstruction and Development was established in 1991 in London with the aim of promoting transition to market-oriented economies in the countries of central and eastern Europe and Central Asia. Although this proposed transaction concerns Easter European countries (who are increasingly feeding their produce into the world food supply), it's worth asking how long it might be before similar exploitable loopholes and financial skulduggery to help Monsanto expand its portfolio in Western Europe might arise.
Whatever the banks might say, this isn't 'just business'. This isn't just a European issue either.
Even though polls show no less than 91% of American voters back mandatory labelling of GMO food, California courageous Proposition 37 narrowly failed to gain a sufficient number of votes to pass into law. The Obama administration is the very picture of revolving door political appointments which allow businessmen who have ties with some of the world's most destructive companies to hold high ranking positions in the government.
Among the President's men are two former top Monsanto employees, Michael Taylor and Tom Vilsack, how long before  the US government starts giving US taxpayers' money to fund GM research and development?
If you are concerned about what is being done in your name – and potentially with your money – now would be the time to get angry. Why not star by supporting some of the excellent anti-GM groups in their work, or write your Euro MP (MEP) to raise your concern about this deal and ask where they stand on the issue of GM.