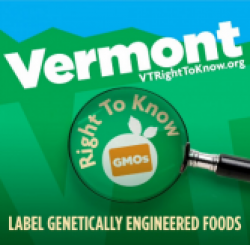 Victory! Vermont is the first US state to label GMOs!
25 April, 2014
By Staff Writer
Natural Health News
Natural Health News — US consumers may well have reached their tipping point in the fight to have genetically modified foods labelled.
This week the Vermont legislature passed a bill that required GMOs to be labelled in the state and this bill was signed into law by Governor Peter Shumlin late Wednesday.
Starting July 1, 2016, products sold in Vermont that contain more than 0.9% GMO content contamination will require a statement on the label indicating that genetic engineering was used. The bill does not apply to labels for milk, eggs, and meat from animals fed GMOs.
But it does say that products labelled as containing GMOs cannot also be labelled as "natural."
Proud
"I am proud of Vermont for being the first state in the nation to ensure that Vermonters will know what is in their food," Shumlin said in a statement.
State Rep. Shap Smith, speaker of the Vermont House, echoed Shumlin's message, stating: "Every Vermonter has a right to know what is in their food."
"Genetically engineered foods potentially pose risks to human health and the environment," he continued. "I am proud to be the first state in the nation to recognize that people deserve to know whether the food they consume is genetically modified or engineered."
No scientific consensus on safety
There is still no scientific consensus on the safety of GMO
Unlike the strict safety evaluations required for the approval of new drugs, the safety of genetically engineered foods for human consumption is not adequately tested.
A growing number of studies indicate that genetically engineered foods may contain novel toxins, allergens, and other substances that can present real risks to our health. Labelling of genetically modified foods will make it possible to identify and track any adverse health reactions that may occur as a result of consuming GM foods.
Citizen groups in the US are choosing to address that lack of consensus by asking that their food be labelled so that they can make proactive and informed choices about what they eat.
Past labelling initiatives have stalled in California, Washington and Hawaii. Bills have been passed in Maine & Connecticut with so-called 'trigger clauses' that mean that the law will not be brought into force unless neighbouring states also bring similar laws into effect. The Vermont law contains no such restrictions.
More initiatives on the way
Other state initiatives are actively pursuing labelling of GMOs. And California is now gearing up for another battle around a cleaned up version of Proposition 37, a proposed bill is SB 1381 (you can see both its original and revised form here).
The measure has a big job to do. It has to clear the Senate Agriculture and Appropriations committees as well as the full chamber, by May 30, in order to be taken up for consideration by the Assembly. Once there, it would have until just June 27 to gain passage from the relevant committees and the lower chamber to see approval from the governor.
In New York state lawmakers are looking at Assembly bill 3525 and Senate bill 3835, measures that would require labeling in that state. Passage of a bill in New York is key for labeling advocates as it would meet population trigger for laws in Connecticut and Maine, but it's unclear if the measures will gain enough traction before the session ends, June 19.
But a DARK shadow too
State initiatives like these, are encouraging, but they may also fall prey to a new federal bill just introduced, that could banish all state efforts to label GMOs. The Safe and Accurate Food Labeling Act of 2014, dubbed the Deny Americans the Right to Know – or DARK – Act by opponents because it would ban state measures to label and defer to the FDA, who relies solely on the word of Big Biotech – could still mean that big company money outmanoeuvres citizen activism.
Dishonest politicians and industry lobbyists – for Monsanto, Kraft and others – are actively recruiting other members of Congress to co-sponsor his bill. The Environmental Working Group has started a petition so US citizens can tell their representatives to oppose the DARK Act.
Click here to tell your representative that you deserve to know the truth about what you're eating!