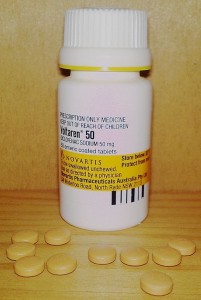 EU regulator to probe heart risk from painkillers
25 October, 2011
By Staff Writer
Natural Health News
Natural Health News — Europe's drugs regulator, the European Medicines Agency (EMA), has announced a review of the safety of common painkillers in the light of fresh evidence about possible risks they may pose to heart health.
Non-selective NSAIDs (non-steroidal anti-inflammatory drugs) have been the subject of several European reviews in relation to gastrointestinal and heart problems and the occurrence of serious skin reactions.
These types of painkillers are one of the most prescribed classes of medication worldwide with over 30 billion tablets purchased annually.
They are used to relieve pain and inflammation in a wide range of conditions, including arthritic conditions (such as rheumatoid arthritis, osteoarthritis, ankylosing spondylitis and acute gout), acute musculo-skeletal disorders (for example frozen shoulder), tendinitis, tenosynovitis and bursitis) and other painful conditions resulting from trauma (including fracture, low back pain, sprains, strains, dislocations, orthopaedic, dental and other minor surgery).
The last time the EMA reviewed their safety, in 2006, it concluded that overall the benefits outweighed the risks, but admitted the possibility of increased risk of  heart attacks or stroke could not be excluded. This was particularly true when NSAIDs were used at high doses and for long-term treatment.
Since then new data has come to light and the new EMA review, initiated at the request of the UK's Medicines and Health Products Regulatory Agency (MHRA), will include a range of common medications including diclofenac, etodolac, ibuprofen, indomethacin, ketoprofen, meloxicam, nabumetone, naproxen, nimesulide and piroxicam.
The EMA's Committee for Medicinal Products for Human Use will be looking at, amongst others, a recent  meta-analysis published in the journal Pharmacoepidemiology and Drug Safety. The study pooled data from 6 studies and found that current use of rofecoxib increased the risk of all types of stroke stroke risk by 64% and diclofenac by 27%.  The risk of ischemic stroke (when an artery to the brain is blocked) with these two medications was 82% and 20% respectively. Use of naproxen, ibuprofen, and celecoxib showed less risk.
The Committee has said it will review the results of this meta-analysis thoroughly, together with any other available clinical data (including data from clinical trials and epidemiological studies) and post-marketing safety reports on non-selective NSAIDs, to clarify whether there is any need to update the opinion issued in 2006.