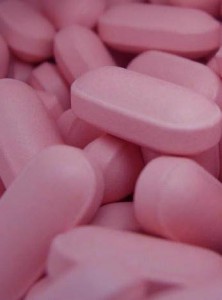 Is this herbal extract the 'female Viagra'?
11 February, 2014
By Staff Writer
Natural Health News
Natural Health News — A new herbal supplement containing maritime pine bark has been dubbed the 'female Viagra' – just in time for Valentine's Day.
The timing is nothing short of cynical – especially given there is no new research. But that hasn't stopped the news reports pouring in.
The product, Lady Prelox has just gone on sale in the UK and according to the manufacturer the product (which costs £37.95 for a pack of 60 tablets) effectively and safely "boosts libido and increases arousal in women", because it "encourages blood flow to the reproductive organs as well as the brain".
Antioxidant action
Nevertheless, last year an Italian study of 100 women aged 37 to 45 found that supplementing with these little pink pills improves sexual function as measured by a number of different parameters such as desire, arousal, lubrication, orgasm, satisfaction and pain, in older healthy women of late reproductive age. The same scientists found the same results in a smaller study in 2012.
Pine bark extract is rich sources of the plant flavonoids called proanthocyanidins (OPCs). Similar (but not identical) substances are also found in grape seed extract.  OPCs are the pigment materials which give flavour, colour and aroma to many plants and fruits. OPCs aren't a single chemical, but a group of closely related compounds.
Several food sources contain similar chemicals: red wine, cranberries, blueberries, bilberries, tea (green and black), black currant, onions, legumes, parsley, and the herb hawthorn. However pine bark extract and grape seed extract are by far the best sources and most sources are made from one or the other. OPCs have a strong antioxidant action that is believed to be linked to their medicinal benefits.
Lady Prelox contains a combination of 20mg of pycnogenol along with rosehip extract, and the amino acids L-Arginine and L-Citrulline.
What's good for the gander…
Pycnogenol has long been recommended for men suffering from sexual dysfunction. In 2008 a related product Prelox (a combination of L-arginine aspartate and Pycnogenol) was found improve mild to moderate erectile dysfunction as well as lower cholesterol and blood pressure. A 2012 study in Japanese men with moderate erectile dysfunction also found pycnogenol to be effective.
One of the main actions of pycnogenol is to improve poor blood circulation, which has been linked to sexual dysfunction in men. In women blood flow is just one of several possible issues that can impact sexual desire and pleasure. For this reason it is not clear that simply improving blood flow is the answer to treating women's sex lives.
Previously in women it has been found useful for treating menopausal symptoms such as hot flushes, night sweats, mood swings, irregular periods, loss of libido and vaginal dryness as well as fatigue, sleeping disorders, concentration and memory problems, dizziness, depression and irritability all improved to some degree with pycnogenol – all of which may impact on sexual desire.