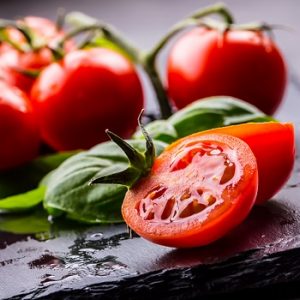 Tomatoes help protect against skin cancer
2 August, 2017
By Staff Writer
Natural Health News
Natural Health News — A diet rich in tomatoes could significantly cut your chances of getting skin cancer.
In a study published in the journal Scientific Reports Researchers fed mice a diet of 10% whole tomato powder daily for 35 weeks, then exposed them to intense periods of ultraviolet light.
There was a 50% decrease in skin tumours in male mice, compared to those that ate no dehydrated tomato. Previous research has shown that male mice develop tumours earlier after UV exposure and that their tumours are more numerous, larger and more aggressive.
There were no significant difference in tumours numbers for the female mice in the study –  the paper does not define what 'significant' means, but does suggest that overall the female mice had so few tumours that it was difficult to judge the true impact.
"This study showed us that we do need to consider sex when exploring different preventive strategies," said the study's senior author, Tatiana Oberyszyn, professor of pathology and member of Ohio State's Comprehensive Cancer Center.
"What works in men may not always work equally well in women and vice versa."
Another possibility, however, is that tomatoes may be particularly effective in those who are at higher risk of skin cancer.
A common cancer
What you need to know
» Previous studies have shown that tomatoes may help prevent sunburn, possibly due to their lycopene content.
» In a new animal based study a diet long-term high in tomatoes was shown to reduce the incidence of skin cancer by up to 50%, but only in male mice. This gender difference has not been seen in other studies.
» Male mice are known to be more vulnerable to more, and more aggressive skin cancers.
» While the results suggest that what works for males may not always work for females, it is equally likely that tomatoes have a role to play in protecting those most vulnerable to skin cancer.
Because they are common and usually non-fatal non-melanoma skin cancers are usually excluded from tables listing the incidence of skin cancer.
However, it is widely recognised that non-melanoma skin cancers are the most common of all cancers. Official reporting of non-melanoma cancers is poor but it is believed that there are more new cases each year than breast, prostate, lung and colon cancers combined.
Despite a low mortality rate, these cancers are costly and can be disfiguring.
Human studies
Previous human clinical trials suggest that eating tomato paste over time can protect against sunburn, likely due to their carotenoids content. Similarly, supplements of lycopene and lutein have been shown to be protective.
Carotenoids are fairly quickly deposited in the skin of humans after eating, and may be able to protect against UV light damage, said Jessica Cooperstone, co-author of the study and a research scientist in the Department of Food Science and Technology in the College of Food, Agricultural, and Environmental Sciences at Ohio State
"Lycopene, the primary carotenoid in tomatoes, has been shown to be the most effective antioxidant of these pigments," she said.
In the diet, lycopene is more bioavailable in cooked/processed tomato products and in one 2001 study, people who added 40g of tomato paste and 10g of olive oil to their main meal for ten weeks showed a 40% reduction in sunburn levels compared to people who added 10g of olive oil but no tomato paste.
A 2008 study estimated the equivalent SPF of consuming five tablespoons (55g) of standard tomato paste with 10g of olive oil every day to be around 1.3. That may sound small, but the SPF scale is not linear.
An SPF of 2 (the lowest you can find on the marketplace) blocks around 50% of UVB. An SPF of 1.3 would block around 20%. So while eating more tomatoes may not prevent all burning and sun damage, getting more lycopene increasingly looks like a good way of protecting your skin from within against premature skin ageing due to sun damage.