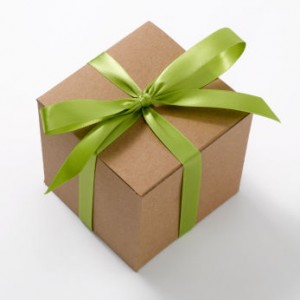 Give something back by giving organic
31 October, 2013
By Staff Writer
Natural Health News
Yes we know. It's not THAT time of year yet. But the season of giving is not far off.
We use gifts to show others how much we care for them. And although it's true that it's the thought that counts, when budgets are tight it's easy to slip into the habit of going for what seems to be the cheapest option. And yet there's a hidden cost to the gift choices we make.
Bargain-basement, plastic, chemical-laden gifts can come with hidden health hazards like phthalates, heavy metals, parabens and other nasties that pose a longer term threat to health and are definitely not the most eco-friendly option either.
Gifts that do good
A good gift does 'good' on many levels at once and is one with some lasting value, so here are some thoughts for how to enjoy holiday giving in a way that doesn't cost the earth.
If you already live a sustainable and organic lifestyle you probably also have friends who haven't quite made the leap yet and who don't want to hear you talk about it. So why not let some lovely organic gifts do your talking for you.
When you give organic you also show how much you care for the environment as well – it's like giving two gifts at once! If your organic gifts are also fairly traded you are giving in a third important way – to producers in developing countries who benefit from a better deal thanks to Fairtrade principles.
Thanks to the growing number of people who choose to live organic and substantial lifestyles there are many different types of gifting. Here are out top tips.
Beauty is as beauty does Most of us buy beauty products because we want to see results on our skin. But buying organic beauty products means you are investing in something that 'performs' on several levels all the way from the farm to your face.
A truly organic and ethical product pays attention to every step of the production process and results in a product that you can feel confident in buying. Organic ingredients have been shown to contain higher levels of natural antioxidants that help to defend against free-radical damage caused by stress, environmental pollutants and the sun. There is also evidence that they can protect both collagen and elastin, the structural proteins of the skin, necessary for a healthy, smooth complexion. Some of the ingredients used widely in organic skincare such as rose, witch hazel and white tea have been shown scientifically to have very potent anti-inflammatory and anti-oxidant activity on skin cells.
Make an organic gift basket Filling a woven or willow basket with little luxuries like organic beauty or bodycare products is not only satisfying to do it's fantastic to receive because everything in it has been personalised. Remember also that you can make delicious gift baskets from organic foods as well (see below)!
Give the gift of organic wisdom Honestly, we are happier when we spend our money on experiences rather than things. A study this year from Cornell University found that people who spend money on experiences like a holiday, a show, or simply a nice meal report higher levels of life satisfaction than those who always go for material things. That's not news — previous studies have shown that what are termed  'experiential purchases' give us greater satisfaction. The reason why may surprise you: people get more enjoyment out of things they can talk about.
Why not give someone an opportunity to learn a new skill for life with a course that focuses on natural health, or ecology.
Soil Association Organic Farm School offers practical courses at organic farms across the UK in growing food, rearing animals, cooking and rural crafts, learning directly from organic farmers and expert practitioners. Likewise, the Centre for Alternative Technology (CAT) runs courses and produces factsheets and publications on energy, gardening, building and all things sustainable.
When it comes to the basics of self-sufficiency (at a household or community level) most of us don't have a clue. Why not give someone an opportunity to learn a new skill for life. For online listings of providers of green courses in the UK visit My Green Directory for some inspiration.
Something for the home… Give your home an aromatherapy treat with organic room sprays and candles that give light and ambiance but don't fill the room with unintended pollutants. Look for products that use real and organic essential oils instead of toxic synthetics.
…or something to wear Organic textiles are grown without the use of harmful pesticides or GMOs; promoting a healthier farm and environment.  Nearly a quarter of all the world's insecticides and 10% of pesticides are sprayed on cotton, but with many high street retailers now stocking organic, it's easier than ever to give 'clean' clothes.
Better food… Around 30% of your carbon footprint comes from your food choices. That makes food the single most important, everyday way for people to reduce their own environmental impact.
Organic farmers use natural processes such as energy from the sun to fix nitrogen in the soil, crop and livestock rotations, and natural predators for pest control. Organic farming can also be more energy efficient, mainly because it does not use inorganic nitrogen fertiliser, which is produced from petrol-chemicals. Organic farms also have 50% more wildlife, support more and better farming jobs.
According to the UK's Soil Association if all UK farmland was converted to organic farming, at least 3.2 million tonnes of carbon would be taken up by the soil each year – the equivalent of taking nearly 1 million cars off the road.
…and better booze A bit of organic tipple also makes a fantastic present. So get the party going with organic wine, beer, cider and spirits safe in the knowledge that you may even have less of a hangover in the morning. On the subject of hangovers, you might also want to buy yourself some milk thistle, a liver-loving detoxifying, immune-boosting herb that should be in every holiday first aid kit!
And finally…what's that gift box made from? Paper and cardboard production are highly energy intensive and at this time of year we use – and throw away – so much of it.  This year, make sure that your gift boxes and wrapping papers are made from recycled or FSC paper – and when you finish your frenzy of unwrapping don't forget to recycle them!