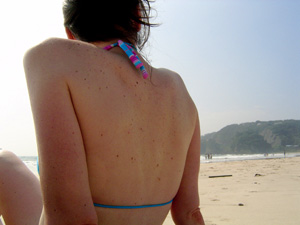 Healthy habits in the sun
20 June, 2012
By Pat Thomas
Natural Health News
Summer inevitably brings the tricky debate – go out in the sun or stay in the shade?
The truth is it doesn't have to be either/or. By developing healthy habits in the sun you can get the best of the summer without risking sunburn or premature ageing.
For years we've relied on suncreams as our safety net in the sun. Now we know that many commercial sunscreening chemicals can be hormone-disrupting and irritating to skin. Whatismore, they can give us a false sense of security, making us feel like we can be out in the sun longer than is sensible or safe.
A good suncream is a must but over-reliance on any kind of convenience or quick-fix product can, over time, cause us to lose simple understanding and basic skills for how to take care of ourselves.
We all need sun to make vitamin D in our bodies. And there is evidence that regular exposure to sun may help reduce children's tendency toward allergies.
Sunburn, photoageing and skin cancer are not inevitable if you, and those you love, adopt certain common sense measures while outdoors.
Start with a quality suncream. If you need to be outdoors for prolonged periods of time choose a suncream that contains a physical sun block such as zinc oxide , which works by reflecting the UV radiation. On current evidence these are probably safer for your skin than chemical sunscreens, which absorb UV, thus keeping it nearer the skin. An SPF of 15-30 is considered a good choice.
In addition look for natural ingredients in your suncream such as plant oils and vitamins E and C. These may enhance the ability of skin cells to repair cellular and DNA damage caused by UV exposure.
Adjust sun exposure to you skin type. The most sun sensitive people are those of Celtic extraction, often with red hair, who hardly tan and burn easily, usually after about 20 minutes of British midsummer sun.
Those least prone to burning are people with brown to black Afro-Caribbean skin and hair who can spend longer periods in the sun without burning
Nevertheless people of all races should protect their skin from sun damage. Very dark, black skin has a natural SPF of about 13 providing twice as much natural UV protection as white skin.
But while the extra pigment in darker skin does afford some added protection against sunburn, photoageing is still a risk. What is more when people of Afro-Caribbean, Asian, Hispanic or Native American descent are diagnosed with skin cancer it is often more advanced and, thus, harder to treat.
Whatever your genetic inheritance, the same rules apply. Dark- or light-skinned – don't rely solely on suncreams for sun protection.
Stay out of the sun during peak hours between 11 am and 2 pm – this is especially important if you have not been exposed to sun for some time. Frequent short exposures are better than prolonged exposure. Trying to get a year's worth of sun in one week will certainly result in burning, skin damage and a higher risk of skin cancer.
Remember, clothing has an SPF too. Most summer clothes provide an SPF of more than 10 – thus specially designed clothing (reputed to block UV rays), is not only expensive, it's unnecessary. An average weight t-shirt provides an SPF of 7. Dark fabrics (dyed black, navy-blue,  etc) provide the highest SPF, but white, green or beige  can also be protective depending on the fabric thickness.
Wear a hat … it should be big enough to cover the more sensitive skin of your face, head and neck. .
…And sunglasses – to protect your eyes from prolonged exposure. Wrap-around types provide more protection than those with small lenses.
Watch your diet. People whose diets are high in omega-6 polyunsaturated fats (i.e. sunflower, safflower and other vegetable oils) are more prone to sun damaged skin. Once consumed these oils are believed to work their way to the skin surface where sunlight oxidises them quickly creating free radicals – unstable molecules that damage the cell's DNA and lead to photoageing and also skin cancer
Researchers from the US National Institutes of Health suggest that those whose diets feature foods rich vitamin D and carotenoids (vitamin A-like substances such as beta-carotene, lycopene and lutein, found in deeply coloured fruits and vegetables) also have a lower risk of developing melanoma.
Supplement. If you are going to be out in the sun regularly consider whether your intake of vitamins C and E is adequate. In one study 2 g of vitamin C and 1000 IU of vitamin E daily reduced the tendency to sunburn.  Beta-carotene is a safe and effective treatment for those whose skin is overly sensitive to sunlight due to a genetic disorder. UV exposure depletes the body of this nutrient and evidence shows that supplementing with a combination of 25 mg mixed carotenoids with 500 IU natural vitamin E provide extra sunburn protection.
Extra Vitamin D can be obtained from foods where it occurs naturally such as oily fish, eggs, and meat or fortified foods such as margarine and some milks. However food sources make a relatively small contribution to total vitamin D status. If you cannot or don't want to go out in the sun, consider supplementing with vitamin D around 5-15 mcg /200-500 IU daily – (children need the lower amount, the very elderly need the higher amount). Up to 1000IU per day is now considered safe and even necessary for those who do not go out in the sun regularly.
Are you a smoker? A recent meta-analysis found that smokers have a more than 50% increase in risk for squamous cell carcinoma of the skin, and the risk remained elevated, even among those who'd kicked the habit. This echoes the findings of previous research and may be a particular risk for women.   Acupuncture and hypnosis may help you quit. See also our article Natural support to stop smoking.
After sun care. Skin exposed to the sun needs extra care so make sure you regularly use a good quality moisturiser, based on vegetable oils and natural extracts, on your face and body. Certain plant extracts have also been shown to repair sun damage. Look for products with, for instance wild rosehip seed oil or aloe vera. Calendula is also very healing for dry or exposed skin.
For more great ideas for summer holiday health see our articles:
Pat Thomas is the author of several books on environment and health including  What's in this Stuff?