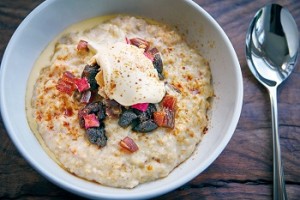 Love your oats! They're a key to 'rude health'
14 March, 2016
By Nick Barnard
Rude Health
To be in 'rude health' is an old English expression meaning to be up for life – when one's cup is not just half full but overflowing. In this excerpt from his new book Eat Right, author Nick Barnard talks about one of his favourite foods – oats.
Porridge is nothing more than gruel made with oats.
Most cultures have a recipe for cooking or soaking a soup or mush of grains or pseudograins to pre-digest and release nutrients, such as polenta, mealie meal or grits (corn), muesli or porridge (oats) and kasha (oats, barley, buckwheat, millet or rye).
Until the early twentieth century, porridge was always made with cut or ground dehulled oat seeds (groats), what we know as oatmeal.
Oat flakes were milled thick and coarse and usually fed to animals, particularly horses. Industrial steaming of oat groats and high-pressure roller milling created 'quick' oats, one of the first convenience foods, as the thinner, part-cooked flakes cook in minutes without pre-soaking.
Porridge made with oatmeal is tastier and more nourishing than everyday oat flakes, and when you soak the oatmeal overnight you will be reviving a simple and grounding time-honoured rhythm, as well as an understanding of how to persuade a reluctant/selfish seed to give up its goodness and energy.
The art of oatmeal
Soaking oatmeal the night before in warm water neutralises the phytic acid present in most grains and legumes that binds minerals and other nutrients. Pre-soaking the oatmeal means those nutrients are made available to us, and allows for gentle and effective digestion, as well as speeding the cooking time in the morning.
The night before, tip some oatmeal into a bowl and add sufficient warm to tepid water so that the oats are just covered and fully soaked. The water must be skin temperature and not scalding or the oatmeal will be lumpy. Stir as you add sufficient water to make a very thick soup. Smell the warm oatmeal – it's wonderfully comforting before bed – a rich aroma that comes from the good fats. Cover and leave to one side; it will soon thicken and set.
In the morning bring about 200ml of cold filtered water to a simmer in a small pan and add a generous pinch of salt. Slide the soaked oatmeal into the pan, stir and bring to a simmer.
Keep a jug of water by the stove: far better to add water to a mix that's too thick than boil down a watery gruel. Stir vigorously and cook so that the oatmeal is lump free and very hot.
Taste for salt. The oatmeal should taste neither salty nor dull and should have a pourable but not runny consistency. Within 3–5 minutes your oatmeal should be ready. Taste to be sure, then turn off the heat, put a lid on the pan and let it rest for a minute or so.
A world champion porridge recipe

Every year, in October, and for more than two decades, competitors from the world over arrive in the quiet Scottish Highlands village of Carrbridge in the Cairngorms to take part in the quest for porridge world championship glory.
That's for cooking porridge, not for how many bowls you can eat in one sitting.
There are two categories and winners: one for traditional Scottish oatmeal porridge, made only with oatmeal (not jumbo or porridge flakes), water and salt; the second for a speciality porridge dish, which can be savoury or sweet but must contain oats.
This event is called The Golden Spurtle, named after the trophy awarded for the best bowl of traditional porridge (a spurtle is, of course, a porridge stirring stick), and takes place in Carrbridge village hall. It is a unique and entertaining spectacle, watching contestants vying for the trophies with their imaginative recipes and ingredients.
This recipe for Fruity Date Porridge won the speciality trophy in 2014; the judges declared it is so simple that a child could make it. Praise indeed. Serves 4.
Ingredients
75g (2.5 oz) mix of medium-grade oatmeal and pinhead oatmeal
75g (2.5 oz) mix of porridge oat flakes and jumbo oat flakes
450ml (15 oz) Guernsey or non-homogenised milk, preferably raw, or a mixture of milk and water
Pinch of ground cinnamon (to taste)
1 tbl apple powder, or (as it's not easy to find) dehydrate some fresh apple and grind
A handful of freshly chopped dates
A handful of freshly chopped dried apple, either from rings or as cubes, with or without skin
A handful of freshly chopped dried apricots
To serve
Guernsey cream, or raw, or clotted
Coconut palm sugar (optional)
Method
1 Combine the oatmeal and the oat flakes mixtures.
2 Heat the milk, or milk and water, in your favourite porridge pan. Add the oatmeal and flakes, and start to stir with your spurtle. Now add the cinnamon and apple powder, and most of the chopped fruits – save some to sprinkle on the top of each bowl.
3 Simmer for as long as necessary until just right – usually about 4–6 minutes. Add some extra milk, or water and milk, if the porridge becomes too thick. It should be thick and creamy but pourable.
4 Serve, sprinkling some of the reserved dried fruits on top, before pouring over, generously, as much cream as you like. Sweeten some more, if you wish, with a shaking of coconut palm sugar.
5 Or, if you want to appreciate the cream cold with the hot porridge, serve the cream on the side in its own bowl. Dip your spoon into the hot porridge and then into the cream, hot and cold, cream and oats… a heavenly combination.
Taken from Nick Barnard's book, Eat Right, Kyle Books, £25 (UK)
About Nick Barnard
Nick Barnard is a co-founder of the hugely successful and award winning brand Rude Health and is well-known for his infectious enthusiasm for traditional foods and drinks.
About the book  – and competition
Health conscious but bored of being told that plant-based, gluten-free diets are the only way forward? Meet Nick Barnard, co-founder of the hugely successful brand Rude Health. Eat Right is his inspirational and upbeat celebration of positive eating. This book offers truly achievable and simple ideas, recipes and advice on how to be nourished by traditional foods in a modern world.
Forget this month's fashionable diet, or the latest blacklisted food; Eat Right has 135 delicious and wholesome recipes that encourage the use of good animal fats, grass-fed meats and dairy, as well as sprouted, cultured, fermented and activated foods and drinks, alongside local and seasonal produce.
We have a copy of Nick's fantastic book to give away. Email us at info@naturalhealthnews.uk. Please put 'Porridge' in the subject line and include your name, and address in the email. After the closing date an entry will be chosen at random to receive the book.
Closing date 20 March 2016. UK only.