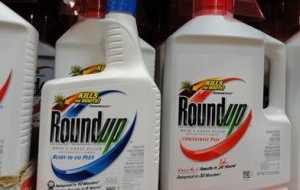 What's your body burden of glyphosate? Take the test to find out
27 April, 2015
By Staff Writer
Natural Health News
A month ago the World Health Organization (WHO) declared that glyphosate, the world's most widely used herbicide, is a probable human carcinogen".
The announcement put glyphosate in the same toxic league as human papillomavirus type 68, inorganic lead compounds, anabolic steroids, working in a petroleum refining plant, and the dry cleaning fluid tetrachloroethylene (perchloroethylene, or 'perc'). It also left many wondering how we know if – or even how much – of this toxin we are carrying in our bodies.
Now a unique new project launched in the US this week will allow people in the US and elsewhere to check their exposure to glyphosate. The validated glyphosate testing method, sponsored by a new group Feed the World, will allow the general public to find out with certainty what levels of glyphosate are found in their bodies and in their tap water – and eventually breastmilk.
According to Henry Rowlands, Director of the Feed the World project, which is sponsoring the testing:
What you need to know
» Glyphosate is a toxic herbicide used widely in agriculture and especially on GMO crops.
» It has recently been declared a 'probable human carcinogen' by the World Health Organization.
» There is no routine testing available to the general public either through their GPs or public health clinics.
» A new service in the US, using a validated testing method, allows members of the public to send urine and tap water samples in for testing, helping them to better understand their body burden of glyphosate.
"Glyphosate is the backbone of our current agricultural system that supplies us with toxic food, water and air. We aim to ban glyphosate by allowing the public to inform themselves about what levels of glyphosate are found in their own and their family's bodies. Feed The World will also give a platform to profitable, agriculture alternatives that allow farmers, businesses and governments to change direction towards a better non-toxic future for our children."
The creation of and validation process for the glyphosate testing method as well as the public testing for urine and water is performed by a very highly regarded laboratory in the USA, whose identity will remain confidential until later in 2015, when they will publish the full method paper in a peer-reviewed scientific journal. The public breast milk testing will also begin later in 2015.
A toxic legacy
Glyphosate is used widely on GM crops but it is also used on conventional cereal crops as a desiccant (to dry them out) before harvest, and is sprayed widely in parks and on city streets as well.
While evidence of the environmental harm wrought by glyphosate – resistant 'superweeds, destroying soil organisms, and threatening the survival of pollinators such as bees and butterflies – has been known for some time, evidence of its health effects is only just emerging, especially in the US where the population has been eating GMOs for nearly two decades.
Traces of glyphosate has been found widely in the urine of European citizens. Likewise in 2014  traces of glyphosate have also been found in the breastmilk and urine of American mothers, as well as in their drinking water. The levels in breastmilk were worryingly high – around 1,600 times higher than what is allowable in European drinking water. Passed on to babies through breastmilk, or the water used to make formula, this could represent an unacceptable risk to infant health since glyphosate is a suspected hormone disrupter.  Recent studies suggest that this herbicide is also toxic to sperm.
Studies of animals fed GM foods and/or glyphosate, show worrying trends in terms of health impacts including damage to vital organs like the liver and kidneys, damage to gut tissues and gut flora, immune system disruption, reproductive abnormalities, and of course, tumours. So understanding your body burden of this substance is vital.
A Women's and Children's Bill of Rights
The validated glyphosate testing method, which is more sensitive than the testing used by the US mums in 2014, and will allow the general public to find out with certainty what levels of glyphosate are found in their bodies and in their tap water.
NGOs and mother bloggers from across the US including the Organic Consumers Association and Mamavation have already signed up to promote the testing.
The Feed the World project also includes a Women and Children's Bill of Rights, due to be presented to the US Senate in October calling for a phasing-out and total ban on the sales of glyphosate-based herbicides before the end of 2018. 
In the UK Margaret of Mar, 31st Countess of Mar, member of the House of Lords and long-time campaigner against environmental toxins, stated;
"It is to the women of the world that we must turn if future generations are to be able to lead healthy and fulfilling lives. Glyphosate is known to probably cause cancers and other life threatening medical conditions and yet it is to be found everywhere. As individuals we cannot know whether or not we or our children are affected. This remarkable project will enable the women of the world to discover whether glyphosate is in our bodies or water supply; to learn how to avoid further exposures and, finally, to join together to show that we will no longer tolerate glyphosate in our food, water, air."
No safe levels of a poison
The expected reaction to the project from the industry that produces glyphosate-based herbicides is that the levels found in humans are 'safe.' However, Feed the World has a useful information database that identifies the many health and environmental dangers related to glyphosate, including evidence that glyphosate doses considered "safe" by industry and government regulators, have now been demonstrated to be "toxic."
Dr. Michael Antoniou, a Molecular Geneticist in London concludes:
"With increasing evidence that glyphosate may be toxic at very low doses through mechanisms such as disruption of endocrine (hormone) systems that in turn can lead to serious illness in all age groups, it is becoming ever more imperative to obtain wide-scale information on the levels of this substance in the human population at large."