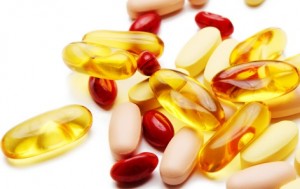 Another misleading story linking vitamins to cancer
21 April, 2015
By Staff Writer
Natural Health News
Natural Health News — In today's papers there is a flurry of stories about a new 'study' linking vitamins with cancer. Here's what you need to know about these reports: There is no study.
The stories in the newspapers are based around a statement made by Dr Tim Byers, a scientist at the University of Colorado Cancer Center. The statement was made in a forum at the American Association for Cancer Research (AACR) Annual Meeting in Philadelphia this week. Most news outlets have simply reprinted a press release put out by the University of Colorado and assumed that Dr Byers is referring to new data.
Byers is senior author of a commentary published in 2012 in the Journal of the National Cancer Institute. That commentary (also not a study but an analysis of selected research) looks at the benefits and risks of high dose dietary supplements. It concludes that "dietary supplements should not be directly or indirectly marketed for cancer prevention" and blames supplement manufacturers for marketing their products in this way – and ignores the fact that there are laws in most countries preventing such marketing and in truth ignores many positive studies linking supplement use with positive health outcomes.
Comments out of context
In his comments, reproduced in today's newspapers, Byers focuses on two supplements, beta carotene and folic acid, noting that in one trial exploring the effects of beta-carotene supplements taking more than the recommended dosage increased the risk for developing both lung cancer and heart disease by 20%. In another trial folic acid, which was thought to help reduce the number of polyps in a colon, actually increased the number in another trial.
Taking single trials out of context is rarely helpful or enlightening and although Byers suggests that studies showing benefit are often poorly conducted, as we have reported elsewhere on this site – studies of harm caused can be overstated and downright slapdash.
In the UK the Health Food Manufacturers Association (HFMA) comments on today's story this way:
"This commentary is not based on any new research, but on old data discussed at an American university forum, which by its own admission, showed that only those who took unrecommended, high levels of supplements reported negative health effects," said Graham Keen, Executive Director of the HFMA.
"The commentary pointed out that, 'multi vitamins taken at the correct dosage can be good for you and people need not be afraid of taking multi vitamins and minerals' – an outtake which could be missed or misinterpreted by consumers reading today's news reports.
Supplements – an excellent history of safety
Commenting on the folic acid and beta carotene examples Keen adds:
"Food supplements have an excellent history of safety, both in the UK and worldwide. Aside from eating healthily, food supplements are an essential requirement for some groups of people who may be at risk of nutrient deficiencies, a position supported by the Department of Health.
"A prime example is the proven case for 400mcg folic acid supplements taken daily to help prevent the risk of neural tube defects in pregnancy, and it is essential in the interest of public health to ensure that such reporting, which is not based on any new research, does not discourage those planning pregnancies from continuing to take this essential supplement.
"Regarding beta-carotene, the European Food Safety Authority issued a statement in 2012 concluding that overall intakes of beta-carotene up to a dose of 15mg a day (far in excess of levels generally found in multivitamin products) do not give rise to concerns about adverse health effects in the general population, including heavy smokers.
"Vitamin supplements are not primarily designed for curing or preventing the spread of disease. Daily vitamin supplementation at sensible, moderate levels provides important nutritional insurance for millions of users looking to safeguard their nutritional intake alongside a healthy diet."
For those interested in seeing the context of harm and benefit of supplement usage we encourage you to look at our reports New infographic bursts the bubble for natural health detractors and Herbs & supplements – EU data shows they're super safe and their accompanying graphics which provide a reality check on the so-called 'risk' of supplements.
Evidence of benefit
Since Byers 2012 commentary was published we have reported on many studies which show benefit of vitamin use. These include:
These are benefits found in scientific studies and must be taken into account and it is disappointing that major newspapers with unlimited resources and expertise at their disposal did not take the time to double check all the facts before they went to press.